Holy Week Worship Schedule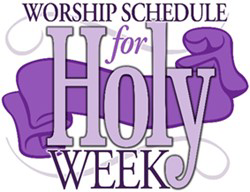 Sunday, April 9 – Palm Sunday
Wednesday, April 12: Holy Week Service – 6:30PM
Friday, April 14: Good Friday Service – 7:00PM
Sunday, April 16 – Easter:
9:00AM – Breakfast
9:45AM – Sunday School
11:00AM – Easter Worship
Volunteer opportunities during Holy Week:
Extended Session volunteers for Holy Week Service on April 12 and Good Friday Service on April 14.
Help Rick Lynch and Keith Packer with Easter morning breakfast.
Please let Robin in the office know if you can help!