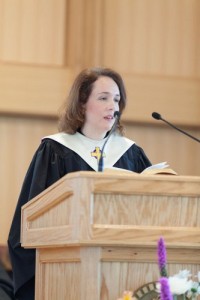 In 1996, Amy received her Bachelor of Arts in History from Meredith College with Grades 6-12 Social Studies Certification. She worked in Chapel Hill-Carrboro City Schools for 7 years, teaching middle school and high school and serving as a lead teacher, department chair, grade-level team chair, mentor teacher, and member of the District Curriculum Management Coordinating Committee. Amy left teaching in 2003 to be a stay-at-home mom.
In 2011, after serving in lay-ministry at Hope Valley for several years, Amy felt a call to vocational ministry and returned to school to pursue a masters degree from Campbell University Divinity School. Amy completed her Preschool and Children's Ministry Certification through CUDS in December 2013, graduated with her Master of Divinity in May 2017, and was ordained by Hope Valley Baptist Church in May 2017.
A Bible passage that guides Amy's ministry work is Ephesians 4–an illustration of church as a people called by God to work together, using their unique and individual gifts and talents, to build God's kingdom here on earth as it is in Heaven. As a minister to children and families, Amy desires to help equip the church to become more like Christ–-as together (in an intergenerational community) we learn about God, worship Him, and serve Him in our local community and our world.
Amy and her husband, Jonathan, have one child, Elizabeth. In her spare time, Amy enjoys cooking, reading, and spending time with her family.